Delivery
Old Vine Wine & Spirits delivers** wine, spirits and non-alcoholic accessories (glassware, home decor, tools, etc.) within our local delivery area. We are happy to assist you with sending our items as gifts, complete with a personalized note and gift wrapping to the lucky recipient.
Our product availability varies week to week. If we are unable to fulfill an order we will contact customers by phone to make alternative arrangements. At this time, we do not offer shipment of our products via USPS, UPS or Fed Ex either in or out of the state of Nebraska, or internationally. We do not deliver wine to APOs, FPOs or P.O. boxes.
**Old Vine Wine & Spirits delivers to most zip codes in the Omaha Metro Area for $15.00. For deliveries outside of the local area an additional fee may be applied.  Please call us at 402-301-3855 for more delivery options.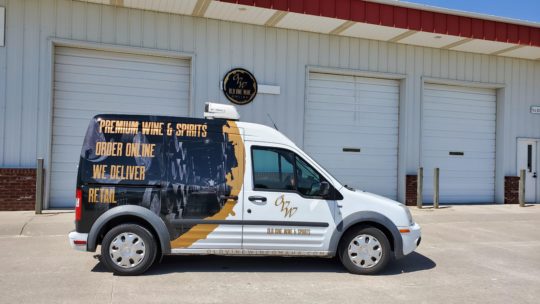 Unlimited Delivery Membership
Old Vine Wine & Spirits offers a $99/year delivery membership for all customers within our local delivery area. This $99/year fee allows you to purchase any amount of products from our store, as often as you want, at no additional delivery fee.
Currently we deliver to the following local area zip codes:
68005
68007
68010
68022
68023
68028
68046
68056
68059
68064
68069
68144
68135
68137
68069
68064
68101
68102
68103
68104
68105
68106
68107
68108
68109
68110
68111
68112
68113
68114
68116
68117
68118
68119
68120
68122
68123
68124
68127
68128
68130
68131
68132
68133
68134
68135
68136
68137
68138
68139
68142
68144
68145
68147
68152
68154
68155
68157
68164
68172
68175
68176
68178
68179
68180
68182
68183
68197
68198

Manage your order delivery
Need to change your shipping address? Want to put a delivery on hold, or request a specific delivery time? Call the store 402-301-3855 or email us.

Sending a gift
We are happy to assist you with shipping our items as gifts. On the Order Review page during checkout, you may select the gift option and include a personalized note. If the order includes alcohol, the recipient must be 21 years of age or older to accept the delivery.

Shipping to multiple addresses
Unfortunately, you cannot split one order to go to multiple addresses. Each address requires a unique order be placed.
Track your order
When you order is filled, you will receive a receipt with the delivery date and time. Remember, someone 21 years or older will need to sign for the delivery upon receipt.
Receiving a delivery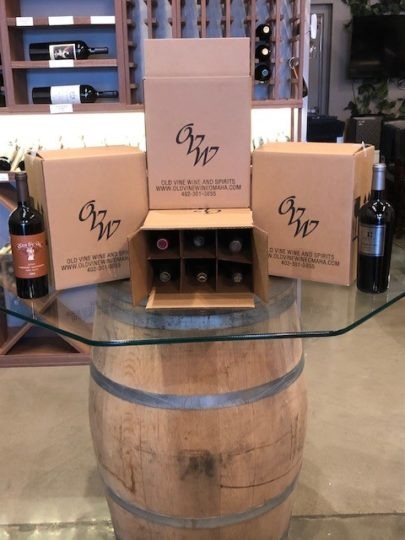 Upon delivery, the delivery driver will ask to see the receiver's ID to ensure he or she is 21 or older. The receiver will also be required to sign for the order. If you are unable to be home, we will make one additional attempt to deliver your order on the next scheduled delivery day. If we are unable to deliver an order after the second attempt, the order will be taken back to our retail location and can be picked up during regular business hours. If you have questions about the status of your order or need to change the delivery date or delivery time, please contact us at 402-301-3855 or email us.
Delivery options
Deliveries are made between 11am and 6pm most days depending on staff availability.  We will contact you to schedule an order delivery date and time. Orders can always be picked up at our retail store location during regular business hours.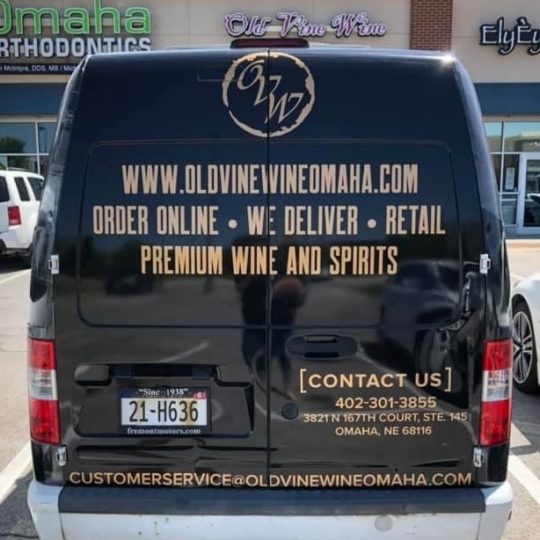 Fees
Purchase Size
Unlimited
$174 or less
$175+
Fee
One-time fee $99/year
$15/delivery
$0/delivery
Items Delivered
Wine, Spirits, Beer
and Non-Alcoholic Items
Wine & Spirits
*Non-Alcoholic Items
Wine & Spirits
*Non-Alcoholic Items
We will deliver to local zipcodes outside of our delivery area, with discretion, for a $25 fee. For delivery to an address in the Council Bluffs, Fremont, or Lincoln areas, additional fees may apply. Call the store to inquire 402-301-3855.